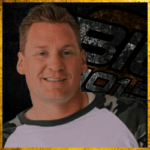 If you were a cartoon, which one would you be and why?
Inspector Gadget. I love cool mechanical things that not everyone has or knows about.
What is the weirdest thing you have ever eaten?
Alligator Burger, Crazy salty if ya never had one.
What do you do to have fun?
I'm a Huge gear head. If there's a car show going, pretty sure I'm getting blinded by the chrome. I also love just jumping in the car and going for a drive.
Have you been told you look like someone famous? If so, who?
Yes. I used to hear Bill Nye the Science Guy…
If you were to name one piece of clothing that describes you, what would you say?
Jeans, and a short sleeve shirt. Pretty much as American as ya can get. I also rarely wear shorts. Don't want to blind and frighten with my legs.
If you were a superhero, what would your name and super power be?
The Blue Brain. Not because I'm smart because, well, you've heard the show… But I like to think I am. Oh, and my Super Power is that I'm able to make anyone do whatever I ask with the power of my mind!
What's one thing you do that other people find odd or silly?
Sing Show tunes!
What's the funniest pick up line you've ever heard?
Do you know what my shirt is made of? Boyfriend material.
If you were to write a book about yourself, what would be the title?
The Rise and Fall of KT Kelley
Tell us something you hate doing. Why?
Cleaning poop up from the yard. Guess I should specify (Dog) Ha. I feel less than superior to my dog.
What's your biggest pet peeve?
Hearing myself or others chew and swallow food.
What's the one thing, you can't live without?
Movie Popcorn
As a child, what did you wish to become when you grew up?
Race Car Driver
If you could have an unlimited supply of one thing, what would it be?
Please refer back two questions lol
Who is your all time favorite Mix artist?
Eagles. Springsteen. Aerosmith. Zeppelin. I know, you just wanted one…but man…