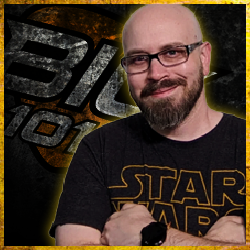 If you were a cartoon, which one would you be and why?
Garfield. Dude ate lasagna and napped all day.
What is the weirdest thing you have ever eaten?
Shark Fin! Just stuck my head in the ocean and took a bite. Just kidding it was in a dumpling.
What do you do to have fun? 
Sleep. Sleep is fun. I love to Grill and have some beers with friends and Family.
Have you been told, you look like someone famous? If so, who?
Any bald/bearded white dude will do.
If you were to name one piece of clothing that describes you, what would it be?
Cargo Shorts. Fashionable and practical.
If you woke up tomorrow as a superhero, what would your superhero name be?  What would be your super power? 
The Human Garbage Disposal – Still working on the name. But I'd love the power to eat anything I wanted and as much of it as I want.
What's one thing you do that other people find odd or silly?
What about what I CAN'T do?!? Whistle 🙁
What's the funniest pick up line you've ever heard?
I've been married a long time, I can't remember that far back.
If you were to write a book about yourself, what would be the title?
Beer and Burritos
Tell us something you hate doing. Why?
The same thing twice. I hate redoing stuff I've already done.
What's your biggest pet peeve?
Rude people, I can be sarcastic, but no need to me MEAN!
As a child, what did you wish to become when you grew up?
A Cowboy Doctor. Still not sure if that was a Doctor for Cowboys or A Cowboy that was a doctor.
If you could have an unlimited supply of one thing, what would it be?
Ice cream!
Who is your all time favorite Big artist?
Led Zeppelin